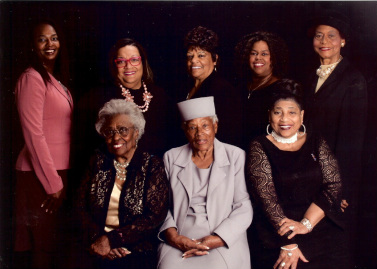 (pictured left to right top row) LaTonia Burris - Vice President, Audrey Irving - President, Marie Stein - Secretary, Dione Sims, Ruby McEwing; (seated) Amanda McHenry - Treasurer, Opal Lee, Charmion Polk (not pictured) Kim Agoro - Financial Secretary, Demetria Bivens, Gradie Chafer




---
"Lifting as we climb"


From our organization in 1933, our club has been about the business of building the ladies of our sisterhood through many activities and social projects that give them opportunities to showcase their talents and abilities. With a long history of training and self-improvement seminars to strengthen the inner core of the individual, our club has deposited greatly in its members because we believe in increasing the self-image and confidence of the person. Working with the other clubs within the city federation, district, state, region and nation gives members the opportunity to hold offices at all levels thereby getting exposure and visibility into the administration of the whole organization.

Literacy and the importance of continuing post-secondary education are key pillars of our organization. As an educator before changing her vocation to nursing, Ethel Ransom believed in the importance of reading and the club throughout the years has hosted many book reviews. Encouraging young people to continue past a high school diploma is something our club takes to heart by providing scholarships since we were organized. We are taking our scholarship giving to a whole new level by expanding it to include a second scholarship for a nursing school student and a third scholarship for a medical school student. We believe that the medical field will be one of the fastest growing industries welcoming the influx of new recruits. We want to be that club that bridges the gap between industry and the community.


Our club has a proud history of sisterhood, training young women, promoting cultural and literary growth, awarding scholarships, volunteerism and community service. We will continue the legacy.




Past Presidents
1933 - 1934 Hazel Guy 1962 – 1964 Marguerite Bonner

1934 - 1937 Eva Doris Moore 1964 –1966 Juanita Young

1937 - 1938 Ruby Lee 1966 – 1968 Jewel Briscoe

1938 - 1939 Vada Phillips 1968 – 1972 Irene Kirk

1939 – 1940 Vada Murray 1972 – 1974 Izean Davidson

1940 – 1941 Maudrie Walton 1974 – 1981 Rosa Lee Denson

1941 – 1942 Irene Kirk 1981 – 1986 Amanda McHenry

1942–1945 Essie Mae Ransom 1986 – 1987 Bettye Franklin

1945-1947 Ruby Lee Anderson 1987 – 1989 Vivian Morris

1948 - 1950 Verdia Gratts 1989 – 1992 Selena Bennett

1950 – 1952 Myrtis McAlister 1992 – 1993 Ingrid Knox

1952 – 1953 Rosa Lee Prince 1993 – 1997 Ruby Session

1953 – 1954 Izean Davidson 1997 – 1999 Juanita Young

1954 – 1956 Vivian Pierce 2003 - 2007 Jimi Burns

1956 – 1959 Rosa Lee Prince 2008 - 2010 Willie Roberson

1959 – 1962 Vada P. Felder 2010 - 2017 Dione Sims

2017 - Present Audrey Irving