A PLEA FOR JUSTICE: The Timothy Cole Story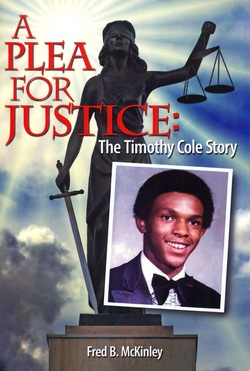 Describes how a 24-year-old black student and an army veteran became entangled in a web of deceit cast by an overly-aggressive police investigation, unjustly arrested without any physical evidence to link him to the crime, falsely convicted, and then incarcerated for aggravated sexual assault. Before he passed away while serving the thirteenth of a twenty-five year sentence, Tim Cole expressed a fervent desire to be vindicated, exonerated, and pardoned, and in an effort to honor his last wishes, a devoted mother and family, supported and represented by the Innocence Project of Texas, carried the fight to the state courts, to both houses of the state's legislature, to the Board of Pardons and Paroles, and finally to the governor.

In the Foreword, Jeff Blackburn, Chief Counsel of the Innocence Project of Texas, writes: "Anyone who wants to know the truth about how our criminal justice system really works should read this book. Anyone who wants to know what the system does to its victims should also read it. When told well, as in these pages, truth has the power to change people's minds. Until that day, some of us will keep fighting for the Tim Coles of the world, but now, armed with this book, we'll do so with more faith than we had before."


Copies are available for purchase.


---