Juneteenth commemorates when the slaves in Texas finally got word of the Emancipation Proclamation issued by President Lincoln. The historical significance affects not only African Americans in Texas, but also the many others who have stood with us for racial equality nationally and around the world. The Celebration is a multi-cultural experience that touches the lives of a diverse audience. The vision is for Juneteenth to be a time of education, self-improvement, thanksgiving and of course fun festivities. The theme is "None of us are free until we're all free."

More than 150 years ago, that community had a chance to come together in a show of unity, but things were different. Today we want to make sure that we make the most of the opportunity to help our fellowman live better lives and celebrate freedom through knowledge sharing.

---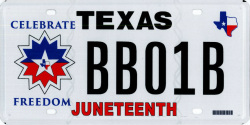 Get Yours Today!
The Texas Department of Motor Vehicles (TxDMV) released the Juneteenth specialty license plate commissioned by the Legislature to commemorate the emancipation of slaves in Texas on June 19, 1865. In 1980 Texas was the first state to recognize the event as a state holiday.
The Juneteenth License plate is now available to purchase
online
for Texas residents with registered vehicles. Since Juneteenth is officially recognized by 43 states as a holiday and celebrated internationally across the globe, a souvenir plate can be purchased from the TxDMV via form
VTR-998
.
---
Juneteenth celebrations in Fort Worth have been coordinated by many different groups and individuals throughout the years. However, most notable are the events organized by Mrs. Opal Lee. For approximately 40 years now, Mrs. Lee has been the driving force behind the rejuvenation of Juneteenth celebrations in Fort Worth. As such, she has been recognized with a Texas House Resolution by the 83rd Legislature for her contributions. We plan to have many wonderful activities, services and speakers. There will be something for everyone.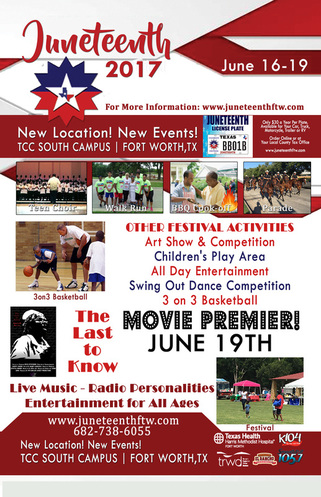 Celebration Schedule
June 16, 2017
Breakfast of Prayer & Service
OpalsWalk 2 DCpart 2
Saturday, June 17, 2017 - TCC South Campus
5K run/walkParade3-on-3 Basketball TournamentEmpowering You EventCommunity Festival BBQ Cook-offMiss Juneteenth Pageant
Sunday, June 18, 2017
Teen Choir Explosion Reunion Concert Bill Pickett Rodeo - Cowtown Coliseum

Monday, June 19, 2017 - TCC South Campus
Movie Premiere "The Last to Know" Documentary
See website for more information
www.juneteenthftw.com
---